Starts with Bourbon Tasting on Friday Evening Date/Time: Friday – December 8, 2017 – 6:00 to 9:00 p.m. Location: Scottish Rite Cathedral-505 S. Byers Avenue, Joplin
Taste Bourbon where Turn-of-the-Century Capitalists and Entrepreneurs Cultivated Business Deals and Friendships ($50)
Nuances of All Things Bourbon Taught by the Proprietor of White Mule Distillery
Food Pairings Included with Bourbon Tasting Ticket
General admission to the festivities ( Bourbon tasting not included )  $25
Cash Bar and Complimentary Hors d'oeuvres •   Scottish Rite Cathedral Guided Tours
Surprise Living History Portrayals
Continues on Saturday Afternoon for Holiday Homes Tour Date/Time: Saturday – December 9, 2017 – 2:00 to 6:00 p.m. Location: Joplin Houses in Historic Murphysburg District and Wilson Hutton District
Friday-Saturday-Sunday – Visitors will be given information regarding all Joplin attractions, dining, bed & breakfast, shopping, and all the festivities that Joplin has to offer during the holiday season.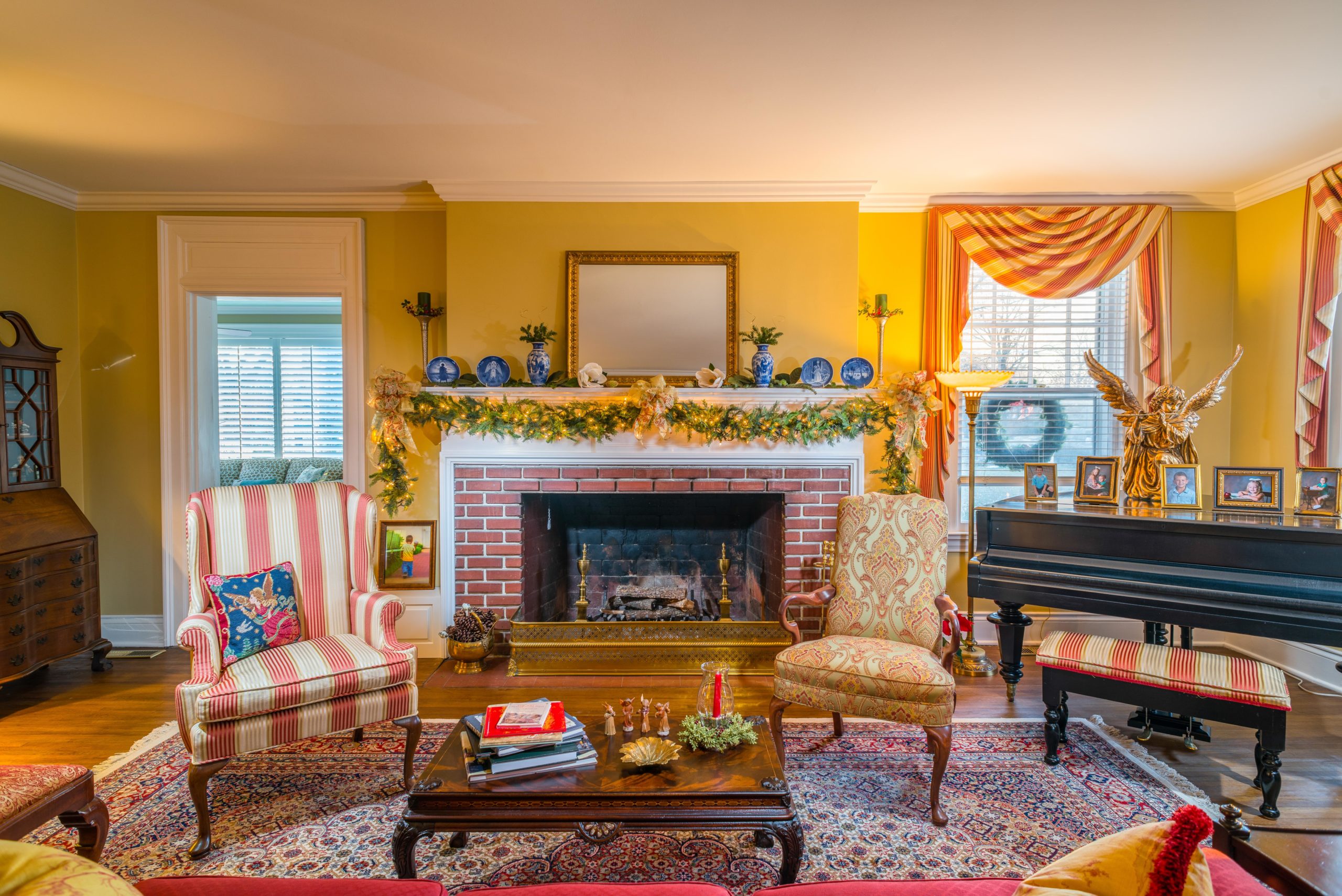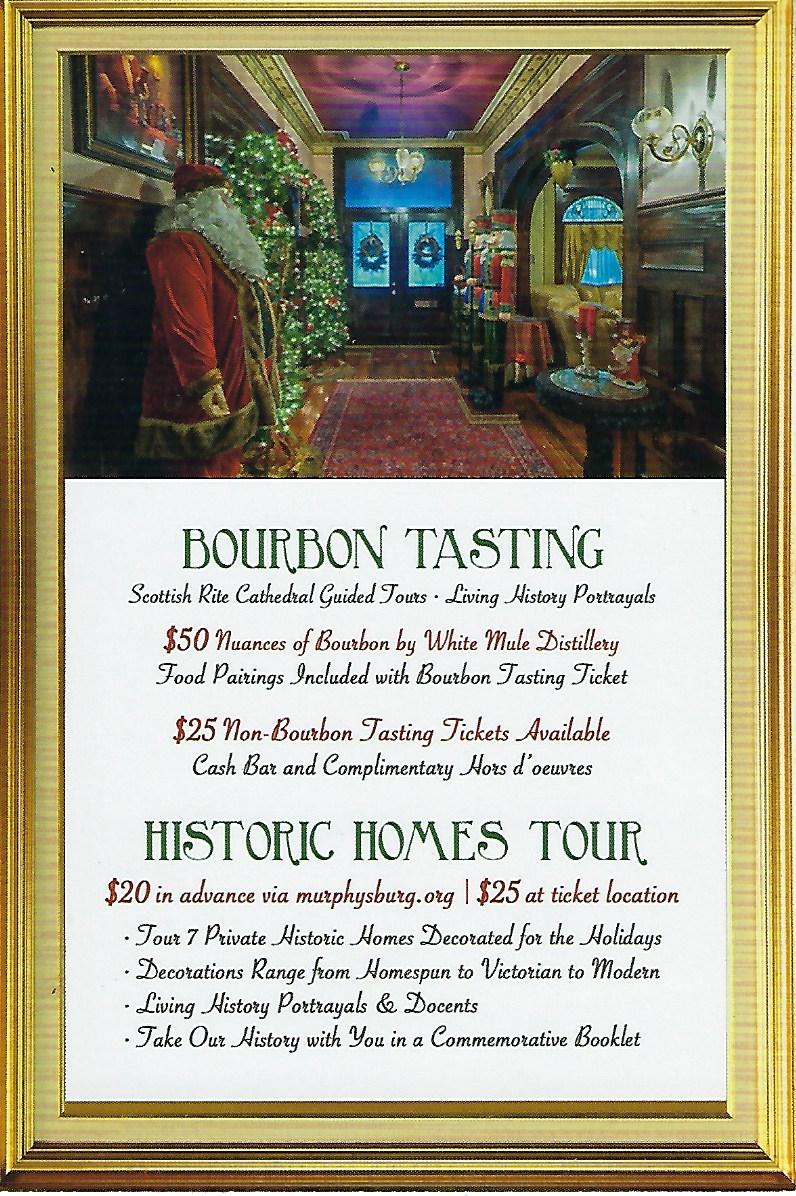 Get your Friday night tickets HERE
Get your Saturday night tickets HERE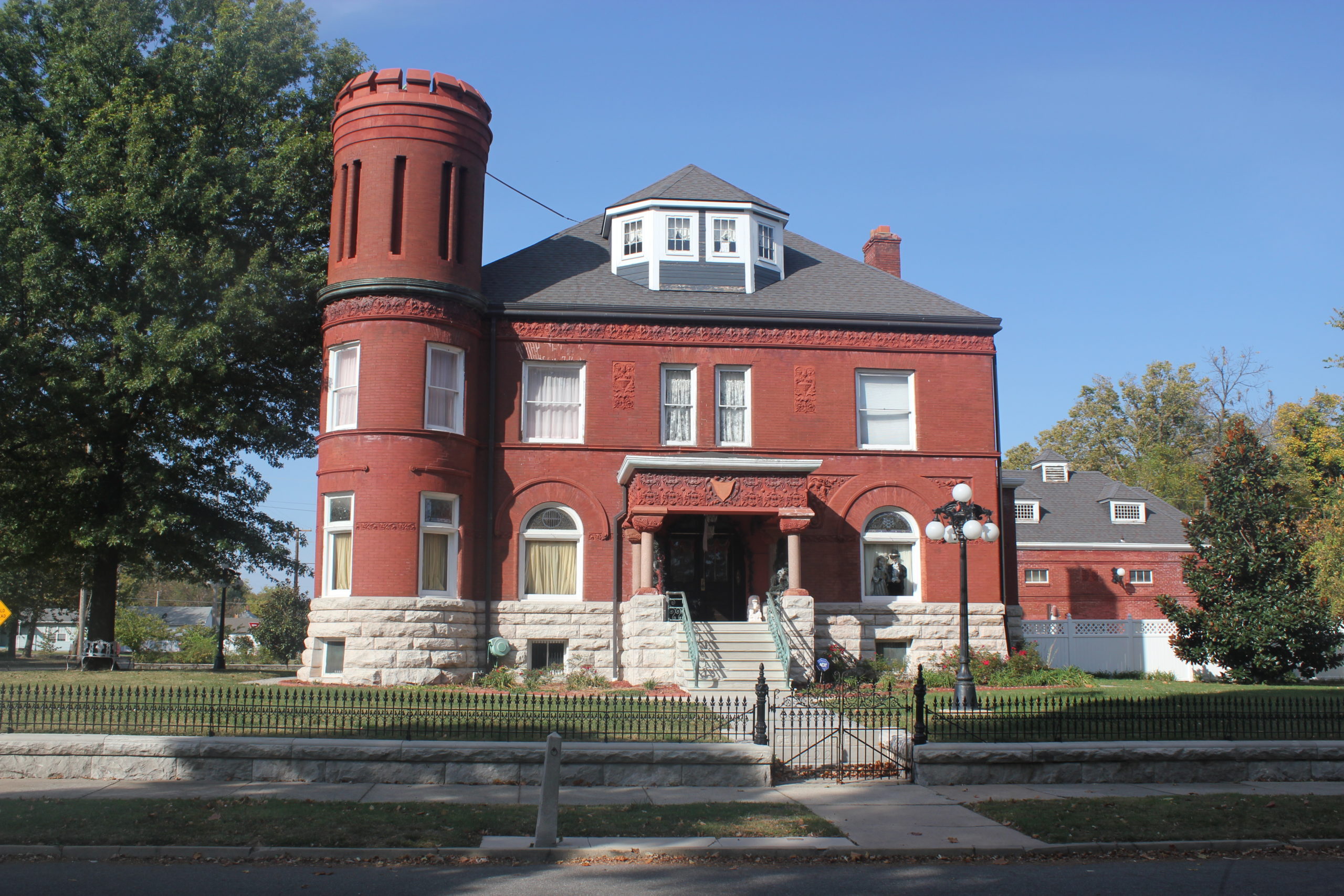 Historic buildings are tangible links with the past. They help give a community a sense of identity, stability, and orientation. The Federal government encourages the preservation of historic buildings through various means.  Start here!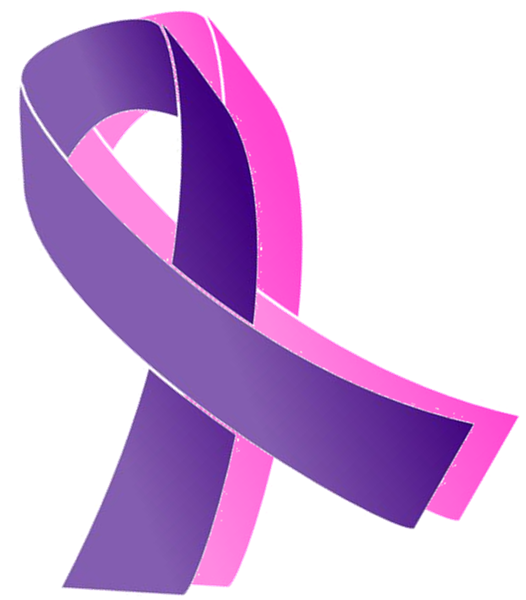 Pink & Purple
Dear Murphysburg Neighbors and Friends,
In order to honor victims, patients, survivors, and their loved ones during Domestic Violence Awareness Month and Breast Cancer Awareness Month, the historic Murphysburg residential district (generally Sergeant and Moffet from First to Seventh Streets) is going purple and pink.  Many trees that line our parkways will soon sport purple and pink ribbons during the month of October.
"We hope seeing the purple ribbons in Murphysburg will start a conversation about domestic violence, and raise awareness not only about the problem, but about where people can turn for help," said Louise Secker, Lafayette House Development Director.  "We can help families be safe, and help them heal through counseling and other support services."  Phone number: 417-782-1772.
During October, the Lafayette House is encouraging people to "go purple" to raise awareness of domestic violence and its impact on families in our community.  Other awareness activities will be visible in the community such as Missouri Southern State University and Kansas City University Medical School.
The Murphysburg district will also have pink ribbons—like last year—to recognize Breast Cancer Awareness Month. Breast cancer is the second most common kind of cancer in women.  About 1 in 8 women born today in the United States will get breast cancer at some point.  The good news is that most women can survive breast cancer if it is found and treated early.  A mammogram – the screening test for breast cancer – can help find the disease early when it is easier to treat.
"This is a call to action for all Joplin residents to make that doctor's appointment, perform a breast self-exam, donate your time or money, or use social media to raise awareness," said Paula Callihan, Murphysburg homeowner. "While there is no cure, we hope the pink ribbons will remind individuals that early detection is key in the fight against breast cancer."
Looking for ways to get involved?
There are many great benefits to your Murphysburg membership including the love and admiration of your friends and peers!  Individual memberships start at only $15! You do not have to be a resident in the Murphysburg boundaries to join.
http://murphysburg.org/wp-content/uploads/2017/04/Murphysburg-HistoricDist-Insert-3.5×8.5.pdf
Learn how your Historic Murphysburg Preservation can help spread the word about your business.  There are tons of great business sponsorship options to fit any size business. Sponsorships start at $50!
Murphysburg is always looking for volunteers to help during our special events. Sign up as a volunteer today! Email inquiries or ideas to murphysburg@gmail.com
Learn more about our the historic Murphysburg neighborhood using our interactive map!  You can virtually explore the entire Murphysburg district and learn about the people responsible for building our beautiful city!  NEW Walking Tour Brochure, here!
Learn more about the historic districts in Joplin
Looking to move into one of our historic homes? This is the perfect place to find out all of the information about the homes that are available in our neighborhood!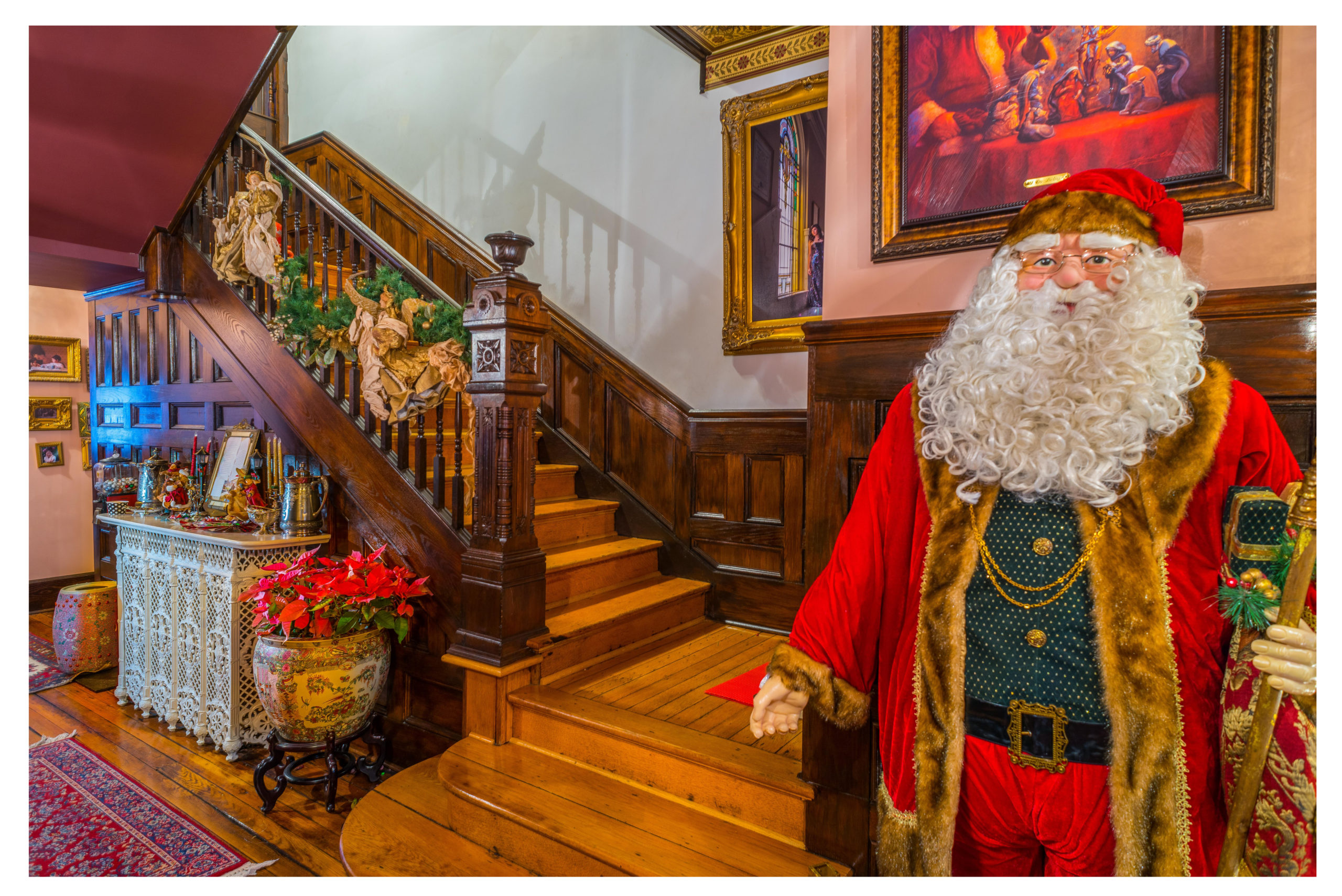 This is your chance to buy tickets to the coolest Christmas homes tour that was ever happened. ever. For just the small price of admission, you will be the talk of the town and the envy of all your friends! You will never forget the awesome stuff you're going to see! We suggest that you cancel that big vacation, cruise or trip to Europe because it can't compare to how much you are going to enjoy your self at the Home for the Holidays, in Murphysburg tour!
Architectural elements you can discover in Murphysburg
Elements of Architecture

The Murphysburg Historic District appears much as it did during the period of significance (1880-1965) and as a whole retains all aspects of integrity. One hundred twenty-six of the 153 (82%) primary resources are contributing to the District while three of the primary resources were previously listed in the National Register of Historic Places. These resources remain in their original locations within the neighborhood and just west of the downtown commercial center. The residential setting has streets lined with sidewalks, mature trees, and houses on widely-spaced lots, as it did when it was initially platted.
Commercial areas have developed to the south and east, but these do not compromise the integrity of the District. The District clearly communicates its associations with and feelings about the patterns of residential development and the breadth of architectural styles that shaped the community of Joplin from the late 1800s into the mid-twentieth century.
The majority of resources retain their original design, materials, and workmanship. The array of architectural styles represented by the original designs, including National Folk Forms, Queen Anne, and Revival Styles, remains intact throughout the District. The majority of the resources have their original form and materials, such as limestone foundations, wood siding, and wood windows.
City of Joplin Forms & and Guidelines
Want to know more about how to list your home as a historic location? Add a city maker to your yard? This page will lead you to all of the city guidelines and regulations.
More resources can be found at the Post Art Library