310 South Moffet circa ~ 1902 ~ Colonial Revival
Many early and prominent Joplin men could lay claim to the "rags to riches" story. Jesse Starr was one such man.  His grit and determination carried him from the Lanyon Smelting Company in Kansas where he began working in 1876, at the age of fifteen, to the Lanyon-Starr Smelting Company that he organized in 1897.
Success continued to follow and in 1905, he organized the Conqueror Trust Company with William Houk, John Gmeiner, and Julius Becker.  He served as the company's vice-president. 
Starr hired Garstang and Rea to design his Colonial Revival style house. It was completed sometime around 1903.  The classic details on this home were a perfect example of what appeared on many homes built in the early part of the twentieth century.  The heavily detailed cornices on the roof and porch are decorated with modillions.  Other interesting features were the upper porch balustrades and upper-story bay window. 
         In 1936, Starr hired A.S. Greenwell to modify the structure.  He created a duplex with one apartment on the upper story and one on the lower. The upper-story bay window and modillions are the few remaining details of the original design.
The house was originally constructed as a single-family residence. It was remodeled into a duplex in 1936. The two-story brick and stone porch was constructed on the east elevation. These changes have become historic in their own right and do not compromise the integrity of the house.
Jesse Starr House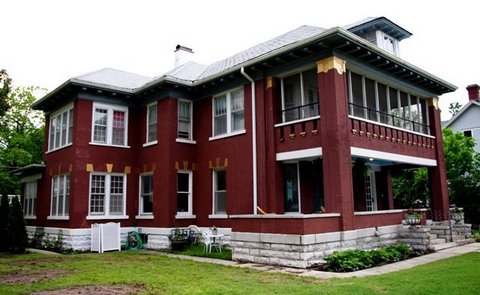 The two-and-one-half-story Craftsman house has been subdivided into apartments. It has a limestone
foundation, brick cladding and an asphalt shingle hip roof.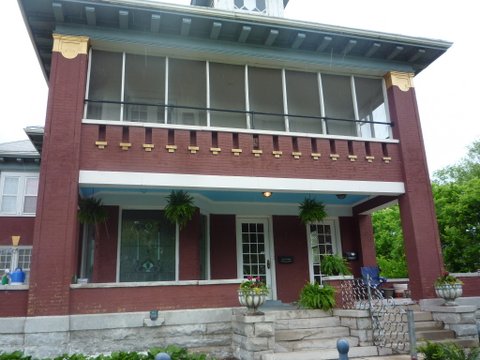 DickensFest 2010
The Starr porch became a living performance stage during the first DickensFest
Some of the many examples of Art Glass of Murphysburg